MARIO ASEF is being part of the exhibition "Transitional Societies" – together with Bernhard Draz, Sven Kalden, Georg Klein, Joachim Seinfeldan he is showing at NON Berlin!
The opening is this iupcoming thursday – March 3rd 2016 at 7pm!
WHERE?
NON Berlin,
Chauseestraße 11/Entrance Tieckstraße, 10115 Berlin
Hours:
Monday to Saturday, 2pm to 7pm
The show is running from March 4th until the 12th, so we suggest you to  stop by quickly!!
The exhibition Transitional Societies, initiated by NON in 2015, accesses the discourse about Transitional Justice, and transferres it with freely associated aesthetic, but politically motivated positions into a wider social context.
Georg Klein shows his interactive installation Na Na in the entrance area. Two opposing satellite dishes acoustically create the word ICH (I / ME), and its Korean equivalent NA, and abstracting it beyond recognition.
In his art work NEAR EAST SIDE GALLERY Sven Kalden transfers graffiti and paintings of the Berlin Wall onto concrete models of the Israeli boundary walls, which are built in the West Bank since 2002.
The Argentine artist Mario Asef broaches the issue of the abduction and murder of 43 Mexican students in 2014, and the grotesque public response to this atrocity, with his large-format photographic work: Acción Día de Muertos.
Joachim Seinfeld shows a cycle from his photo performance series: When Germans Are Having Fun – Dokufiction. He offers an ironic reflection on the bourgeois, christian, right-winged, and also the leftist anti-Semitism in Germany.
Eventually, Bernhard Draz presents with Transitional Justice – Terminology, the words freedom – arbitrariness – justice – control, in white neon letters against a gray background, togehther with its korean pendants as steel letters.
Transitional Societies is a cooperation project of NON Berlin – Asian Contemporary Art Platform and MEINBLAU projektraum, initiated by Anne Hölck, Chan Sook Choi and Ido Shin.
—————————————————-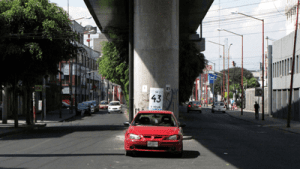 Mario Asef, Acción Día de Muertos, 2014
—————————————————-