ABOUT
wildpalms exhibits and represents Latin American artists, as well Canadian and US artists, in Germany. Created by Jorge Sanguino & Alexandra Meffert, wildpalms has a focus on artistic research, social practices, environment and sustainability.

Our exhibitions are based on a solid curatorial process, compiled by text production and the engagement with critical discourses, giving voice to art professionals working in specific regions in North, Central and South America. We aim to transform cultural practices, current narratives and thought patterns.
Further, wildpalms store and Alexandra's light space movement a holistic approach to mindfulness, yoga and natural movement, joined the wonderful universe of wildpalms.
Furthermore, Jorge Sanguino, an expert in photography and Latin American art compiles his essays in Art of the Americas targeted towards production of text, podcasts and articles, published in different media such as artishock, esfera publica. His work is been definitive for the introduction of Latin American contemporary artists in Germany.

The name wildpalms derived from the book The Wild Palms (1939 by William Faulkner).

---
PLACES
wildpalms uses different approaches to address the function of exhibition and way of working and communicating with artists.
Visit our gallery space in Düsseldorf at:
Gerresheimer Str. 33, 40211 Düsseldorf
To visit outside opening hours, please contact info@wild-palms.com.
Furthermore, our curatorial projects are designed to happen in different spaces, cities, countries or continents. Meanwhile, the fair participations give us the opportunity not only for internationalization, but also to play with different formats of exhibition.
by meffert and sanguino
---
CONTACT
Address: Gerresheimer Str. 33, 40211 Düsseldorf
Öffnungszeiten: Do. 13-19Uhr, Fr. 13-17Uhr, Sa. & So. 13-18Uhr und nach Vereinbarung
Hours: Thu. 1-7pm, Fri. 1-5pm, Sat. & Sun. 1-6pm and by appointment
As our current show entails many video formats and we try to be environmetally friendly, please write us an email to visit the show.
General contact: info@wild-palms.com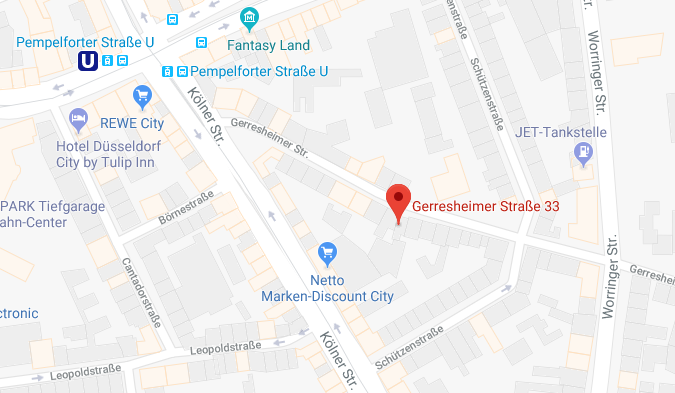 ---
For our online store click:
For Alexandra's project combining art and yoga:
---