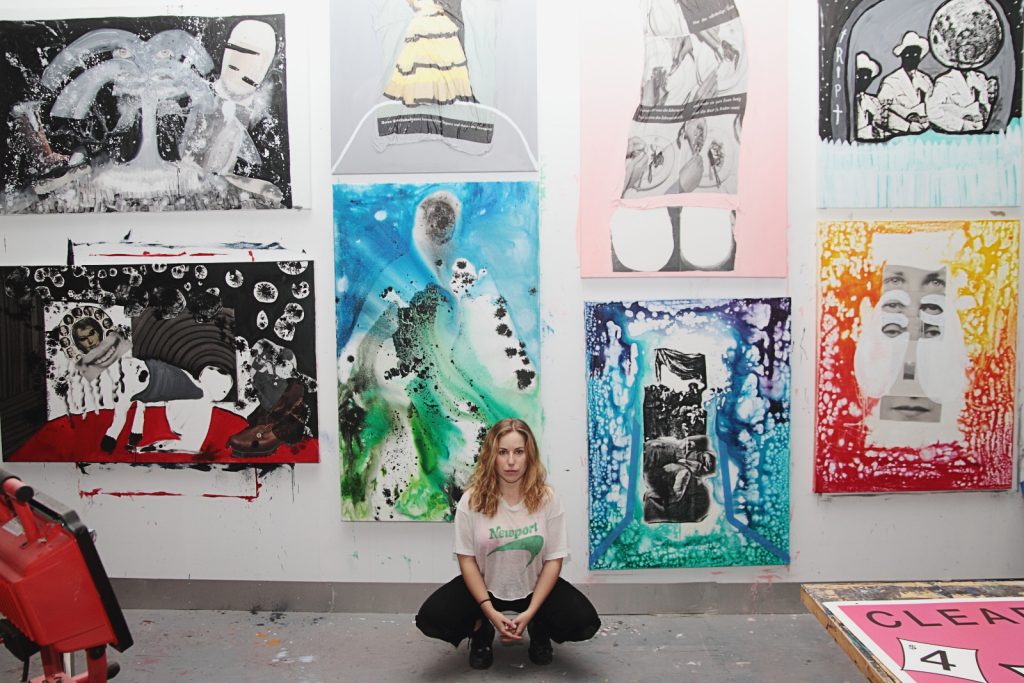 RACHEL LIBESKIND
Rachel Libeskind collaborates with Wildpalms. Constantly producing new works and shows.
She explores socio-political topics relevant to our contemporary society, but at the same time analyzing their historical roots and developments – whether it be e.g. fundamental religious topics or the role of the female figure within different societal structures.
With a critical eye and courage, she gets the bottom of these topics and expresses this in a very poetic manner through verious artistic media, such as collage, tapestry, sculpture, books and performance.
CV
Born 1989 in Milan, Italy. Lives and works in NY.
education
2007- 2011 B.A. Cum Laude from Harvard University, Cambridge, Massachusetts (Visual Studies and Comparative Literature)
Solo Exhibitions/Performances
2020 You don't look historical. You Look Hysterical, 14A, Hamburg, DE
2020 Athenian Salt, signs and symbols, NYC
2020 What Happens in the Kitchen (online exhibition), signs and symbols, NYC
2019 Dry Docking, with Jonah Bokaer, as part of The Hudson Eye curated by Aaron Levi Garvey, organized by Jonah Bokaer Arts Foundation, Hudson, NYC
2018 Double Helix, with Jonah Bokaer, Mana Contemporary, Miami, USA
2018 War (&) Etiquette, 14A, Hamburg, DE
2018 They Only Give You Power If You Give Them Death, Fortnight Institute, NYC
2018 The Traveling Bag, Bombay Beach Biennale, Salton Sea, CA, USA
2018 All About My Self, The Department Store Brixton, London, UK 
2017 The Day the Father Died, Khorasheh + Grunert, NYC
2017 Stuck in the Shtetl, New Release Gallery, NYC
2016 The Circumcision of Christ and Modern Oblivion, Contini Gallery, London, UK 
2016 Holy Trash, My Genizah : commissioned installation by the Center for Jewish History, NYC
2015 Ghost Portrait an installation for Dancer Jonah Bokaer, Site 109 Gallery, NYC
2015 Book Club 9 a performance series during Art Basel 2015
2015 HouseWorld: an interactive theater experience invited and commissioned as the visiting artist for this interactive theater work.
2015 The Traveling Bag: A Performance as a part of Young Artists at the Chelsea Festival, Hotel Chelsea, NYC. Art direction and performance.
2015 The Traveling Bag, Ancient Baggage: A performance with live experimental music, McCarren Park Hotel, Brooklyn, NYC
2015 The Rachel Libeskind Society, Hansel & Gretel/Pocket Utopia, 511 W 22nd street, NYC
2014 The Traveling Bag: A ritual performance, Festival di Spoleto, Italy [curated by Achille Bonito Oliva]
2013 "Rich White Men", Alludo Room, Rome, Italy (non for profit gallery)
2013 LABOEXPO, Performance and Installation, Foro Buonaparte 60, Milano
2013 "The Wild West", Hansel & Gretel Picture Garden, 511 W 20th Street, NYC
2012 NACHT/MACHT, Hansel & Gretel Picture Garden, The Water Mill Center, Water Mill, NY, USA
2011 "Rachel Von Libeskind" Hansel & Gretel Picture Garden 511 W 20th Street, NYC
Group Exhibitions
2020 artists & allies III, signs and symbols, NYC
2020 CRITICAL ZONES, curated by Bruno Latour, ZKM | Center for Art and Media, Karlsruhe, DE
2020 The Decameron: Day 8 (online exhibition), New Release Gallery, NYC
2020 The Drowned, curated by Aaron Levi Garvey, Alabama Contemporary Art Center, Mobile, AL, USA
2019 sensation—sensitivity—creativity—productivity—communication, Signs & Symbols, NYC
2018 artist and allies, signs and symbols, NYC
2017 Occupy Mana, Mana Contemporary, Newark, New Jersey
2017 Group Portrait, Unisex Salon, Brooklyn, NYC
2017 Cosmic Collisions, Merz Gallery, Sanquhar, Scotland, UK
2017 Baño de Oro, Chloro Gallery, Mexico City, MX
2017 Besides Colonialism, Jose de La Fuente Gallery, Santander, ES
2016 Minerva Presents, Cuevas Tilleard Gallery, NYC
2016 Books, Wildpalms, Düsseldorf, DE
2016 Summer Reading, Fortnight Institute, NYC 
2015 Jewel Box Revue, Hansel & Gretel Picture Garden, NYC
2015 9800 Sepulveda, a transformation of a huge vacant building with a show for 100 people
2015 Judson Church Show, Middle Collegiate Church, NYC
2015 Salon Society, the book edition: salon hosted by curator Fabiola Alondra, Brooklyn, NY
2015 START Fair, Saatchi & Saatchi, London U.K.
2015 "Conceived without Sin", Radiator Gallery, Long Island CIty, NYC
2015 The Everywhere Exotic, No Longer.Empty, Pier 94, NYC
2015 Salon Society, private salon hosted by Fabiola Alondra, Brooklyn, NY
2015 "Winter Tales", Alludo Room, Kitzbuhel, Austria
2014 Performed in Alexandra Marzella's work, "Literally Bye" at the Standard Hotel as a part of Art Basel 2014
2014 Artecho, SunWest Studios, NYC
2014 "Traces: A group Exhibition", Gowanus (Brooklyn), NY
2014 Enter: National Lithuanian Arts Festival, Vilnius, Lithuania
2014 New Patron Presents: an Exhibition 355 Bowery, NYC
2013 "15 WARREN: a group show downtown" 15 Warren Street, NYC
2013 "The Jewel Box Revue" Hansel & Gretel / Pocket Utopia, 511 W 22nd street, NYC
2013 Decenter Armory: An exhibition on the centenary of the 1913 Armory show (online)
2013 "RE:SANDY" A Benefit Auction 47 Broadway, NYC
2012 SALON ZÜRCHER: Galerie Zürcher, Paris, France
2012 "TWOD" GRASSGRASS 10 Vyner Street, London, UK
2011 "O Pioneers!" Carpenter Center, Harvard University Cambridge, MA'
Installations/Productions
2015 THE BODY UNTIED a video installation for Baroque musicians, in honor of Queen Anne of Brittany, premiered at the Lightbox in New York.
2015 AMERICAN GOTHIC an original opera presented with a multichannel video installation at Pioneer Works in Brooklyn, NY
2015 CONCEIVED WITHOUT SIN commissioned installation of a nativity scene, with a performance at Radiator Gallery in Long Island City, NY
2015 COWBOY MOUTH setdesign for the inaugural festival at the new Chelsea Hotel, NYC
2015 LA VOIX HUMAINE sitespecific installation for a modernist opera, Bas Fisher Invitational, Miami (Funded by the Knight Foundation)
2013 HEALTHCARE a multimedia installation and theatrical production at Parade Ground at
187 East Broadway, NYC
Residencies/Fellowships
2015 Nominated for the Rema Hortmann Fellowship grant ( pending award)
2015 Accepted to HEIMA, Seydisfyodor, Iceland ( Yet to be completed )
2015 Accepted to 3331 Chiyoda Residency in Tokyo ( Yet to be completed )
2014 Accepted to Arteles Residency in Finland ( Yet to be completed )
2014 ART STUDENTS LEAGUE Residency, Sparkill, NY
2014 BERLIN COLLECTIVE ARTISTINRESIDENCE, Brooklyn, NY
2013 JOINED THE ARTIST PENSION TRUST
2012 NACHT/MACHT residency at The Watermill Center, Long Island, NY
Press & Publications
selection of works
for more works and information contact:
info@wild-palms.com