MAGICAL OPERATIONS
Group Show w/
Opening: June 3rd 2021, 6pm
Show: June 4th – July 11th 2021
@ wildpalms
Works will be viewable AT THE GALLERY – yes, in real life!
Spring cleaning. Inviting in new energies, the summer, the sun, the growing and blossoming plants. There are rituals in every culture, gods and goddesses, special animals and totems. We are connecting our local traditions of celebrating the arrival of summer to get rid of the ghosts of winter, dark and negative energies and putting them into context with other international and indigenous rituals dealt with by artists in their works.
Curated by Alexandra Meffert & Jorge Sanguino
View our Magical Edit in our wildplams store!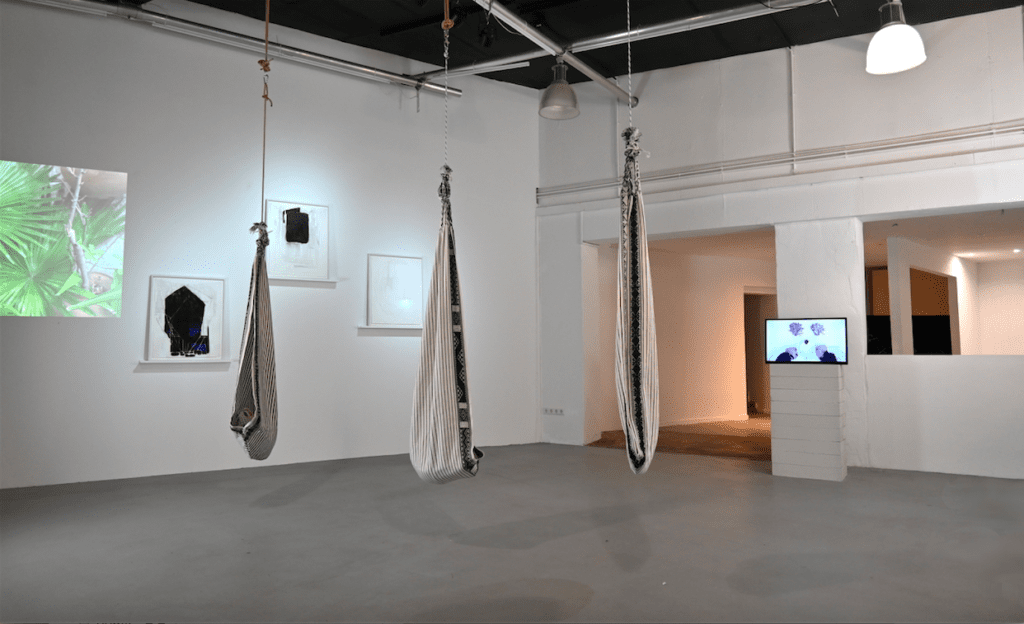 CHERISH MARQUEZ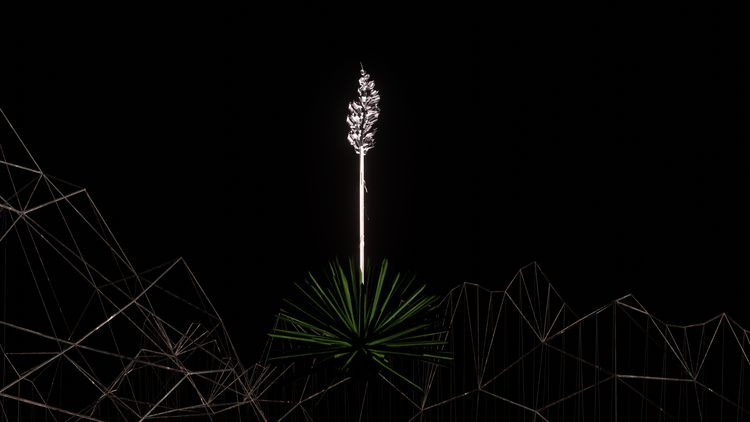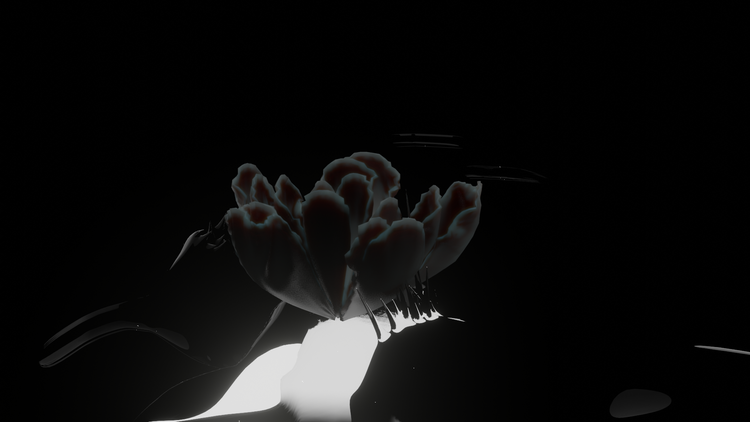 Voices Of The Desert
animated video work
"The desert contains voices that have a story to tell. Stories of trauma. Stories of healing. Stories of surviving. The yucca was used to make medicine. It has air-cleansing properties. It was used to construct clothing. The yucca leaf is a symbol of protection and known as the "sword of survival". The seed pods fall to the ground without the guarantee of life but will find a way to continue living through the harsh conditions of this seemingly lifeless land. The Devil's Claw attaches to humans and animals in order to survive. It offers protection, food, and medicine. It is a part of the land It is a part of our culture. It represents resilience and survival."
– Cherish Marquez
//DE// Cherish Marquez wurde in Texas geboren, an der Grenze zu den Vereinigten Staaten, einem Gebiet, welches früher zu Mexiko gehörte. Ein Ort, an dem die meisten seiner Einwohner mit lateinamerikanischer Herkunft lebenslang mit institutionellem Rassismus konfrontiert sind, der zu der Härte des Lebens in den trockenen Regionen hinzukommt. In ihrem Werk entwickelt sie Ansichten und Bilder von Gottesdienst und Altar, Aspekte, die für die hispano-amerikanischen Gruppen charakteristisch und bedeutsam sind. Dafür nutzt er digitale Animationen und Videospiele. In der Arbeit Voices of the Desert ist die Yucca ein Symbol der Widerstandsfähigkeit, die die Härten der Wüste bezwingt und im vermeintlich lebensunwirklichen überlebt. Auch begrifflich widersetzte sich die Yucca der kolonialen Macht: die indigene Bezeichnung Yucca erhielt auch Einzug in die westlich-koloniale biologische Bezeichnung, die nicht selten die ursprünglichen Pflanzennamen verschwinden ließ zu Gunsten lateinischer Ordnungsmuster.
LAURISTON AVERY
Born in Connecticut, where there is a long history of European pagan and Native American influences mixed with the mystecism of nature, Avery extensively researches with secular materials, such as soil, mirror, sticks, fur, and their applications have evolved into a depth of pictorial form that speaks with a uniquely sensual, rhythmic clarity.
//DE// Lauriston Avery baut seine eigenen Werkzeuge für seine Zeichnungen. Stanzwerkzeuge, scharfe Klingen, Schleifpapier. Die Produktion seiner Arbeiten erfordert höchste Konzentration, die er dadurch erlangt, dass er sich für viele Stunden komplett von der Außenwelt isoliert. Für Avery ist das Ritual, das er für seine Arbeit braucht, eine Reflexion der Rituale, die die Identität der Nordostküste der Vereinigten Staaten mit ihrer Suche nach übermenschlichen Kräften und puritanischen Tendenzen konstituieren und prägen.
The works imply a process of mapping, the cellular body, aerial views of forgotten cities or mysterious constellations subjected to a manic ordering of addition and subtraction.
KAREN PAULINA BISWELL
Series CARAYURU
The series Carayuru was shot using the discontinued FUJI INSTANT COLOR FILM FP-100C and Polaroid camera (turning them into collector`s items). The film produces photos of outstanding quality and was used for commercial purposes, including product photography.
Karen uses a mechanical camera and analog film, because it allows her to work in remotes areas, where electricity is scarcely, Therefore, she is not dependable of charging the battery or carrying a large set of chargers. Furthermore, humid climates have great impact on digital components, but for the mechanical ones, they enhance the photography producing fascinating light distortions.
Nonetheless, the use of the instant film goes beyond the technical limitations imposed by the Amazonas. The immediacy of the photography allowed Karen to interact with a complex environment. Not only for its ecological richness, but also the social one, by adapting herself to the shamanic practices and preparing her for the rituals. Using a different medium, will demand more attention, breaking the balance between her as observer and actor in a magic world.
DE: Karen Paulina Biswell "dokumentiert" mit ihren Polaroids eine Reise in die kolumbianischen Vaupes zu einer Yagé (Ayahuasca)-Heilung. Der Prozess des Yagé-Rituals dauert etwa zwei Wochen, in denen sich der Teilnehmer einer speziellen Diät unterzieht und in der Gemeinschaft lebt. Das Faszinierende an der Serie ist, dass das Ritual geheim gehalten bleibt, weil es nicht dokumentiert wird. Karen lässt die Welt um das Ritual herum erscheinen, in dem sich in der Fotografie die Präsenz und Auswirkung der Natur selbst zeigt. Auf Grund der hohen Feuchtigkeit schreibt sich die Umgebung in die Bilder ein, da deshalb die Brechung des Lichts transformiert und die Chemikalien des Films mit Farben und Abstraktionen verändert werden.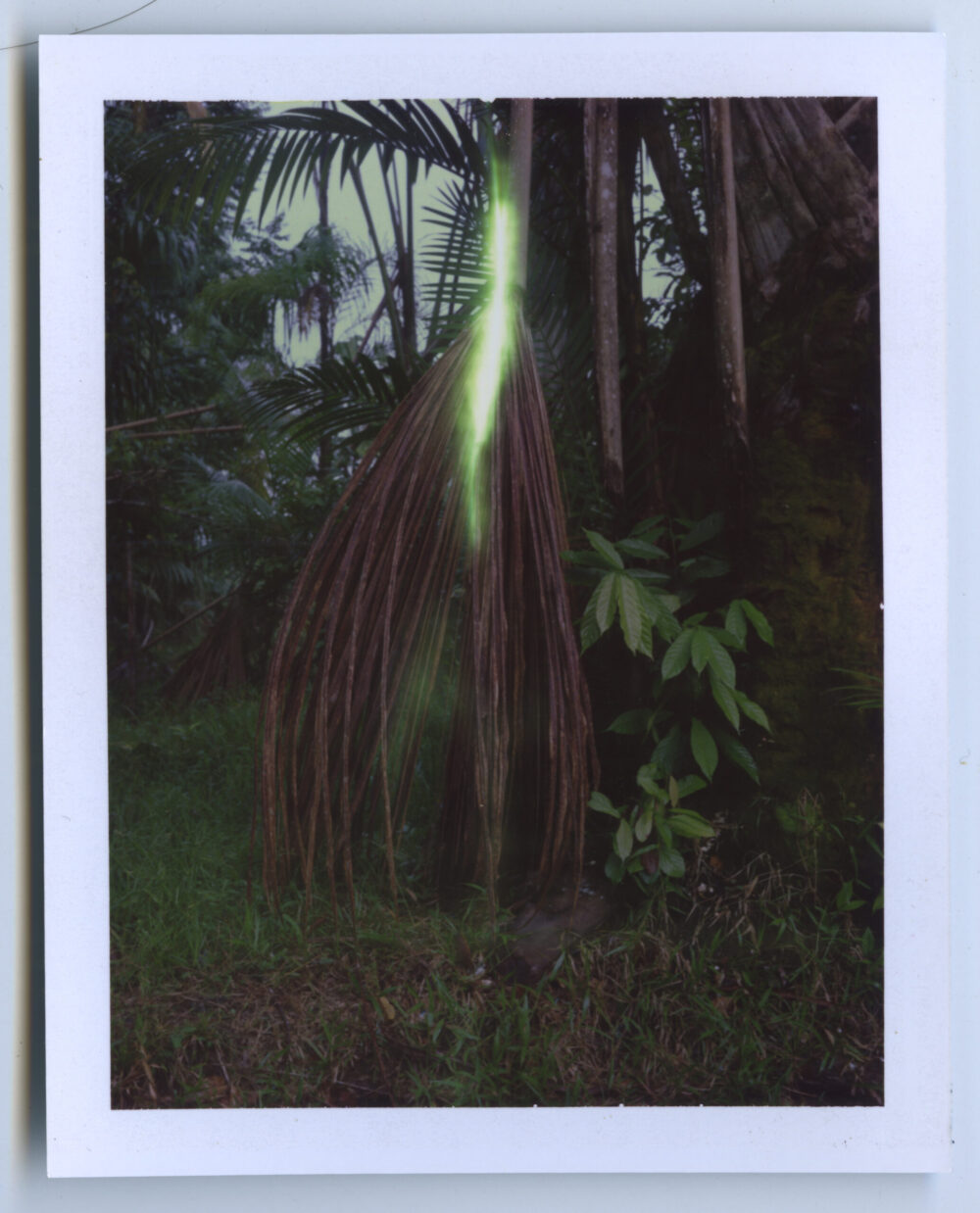 FELIPE CASTELBLANCO
& Lydia Zimmermann w/ Nambi Rimai Comunicacion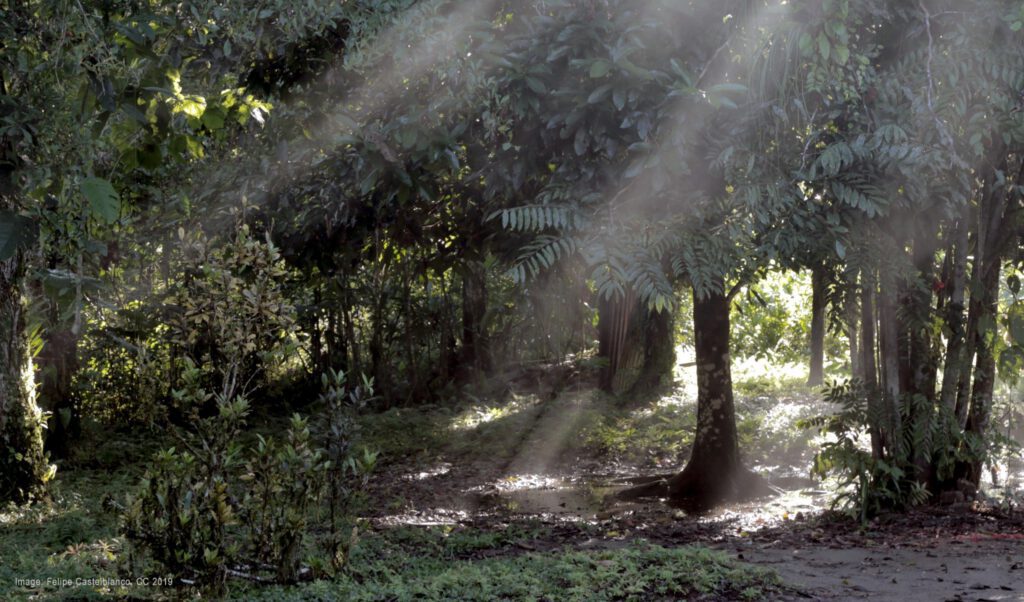 Ñambi Rimai is an indigenous Media Collective operating in the Colombian Pan Amazon region, between the high Andes and the lower Amazon. This initiative emerged after a series of workshops and field work conducted by Felipe Castelblanco in 2018/2020 while working in close cooperation with the central government of the Inga Nation and Ambulante Colombia. The mission of the Media Collective is to support processes of self-governance, preservation of cultural, territorial control and communication all across the territories and beyond.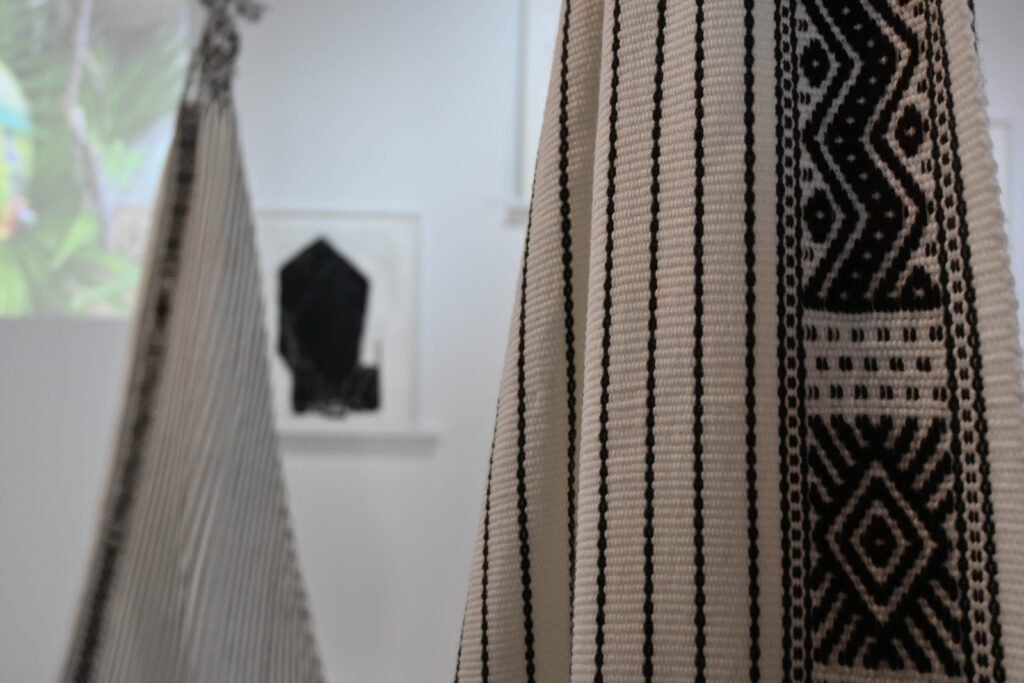 DE: Los nidos de agua (dt.: Die Nester des Wassers) von Felipe Castelblanco ist eine Skulptur und ein Designobjekt, das zwischen dem Künstler und den Kunsthandwerkern aus der Putumayo-Region für die Serie Ayenan entwickelt und mit der Filmemacherin Lydia Zimmermann konzipiert wurde. Acht Kunsthandwerker verwendeten traditionelle Techniken und Wolle, um die ausgestellten Nester herzustellen. Ayenan bedeutet in der Sprache der Kamenstá, das kleinste Teilchen im Universum, aus dem das Leben entsteht. Castelblanco sieht im Wasser die kreative Schnittstelle. Es entsteht im Hochgebirge in einem jahrtausendealten Zusammenspiel zwischen Bäumen und an den Wipfeln vorbei ziehenden Wolken. Diese Orte, bekannt als die Quellen des Wassers, sind heilig und werden durch Rituale in Erinnerung gehalten und zelebriert. Sich im Wassernest befindend, schließt sich das gewebte Textil über und um dem Körper und man kehrt in ein Urstadium, zu der Entstehung des Lebens zurück.
Ñambi Rimai ist ein indigenes Medienkollektiv, das in der Pan-Amazonas-Region entstanden ist. Es ist zusammengesetzt aus jungen Angehörigen der fünf indigenen Völker: Awas, Inga, Kamenstá, Quillacinga und Siona. Ihr Ziel ist es, durch Film-, Radio- und Multimediaproduktionen die Autonomie der indigenen Völker wiederherzustellen, die territorialen Rechte zu verteidigen und die Erhaltung des Ökosystems und die dafür notwendige Kommunikation, sowie Vermittlung zu fördern. Mit ihrem Film Iachachidur stellen sie das Ritual des Häuptlings, (Taita) Paulino Mojomboy dar.
JULIAN DUPONT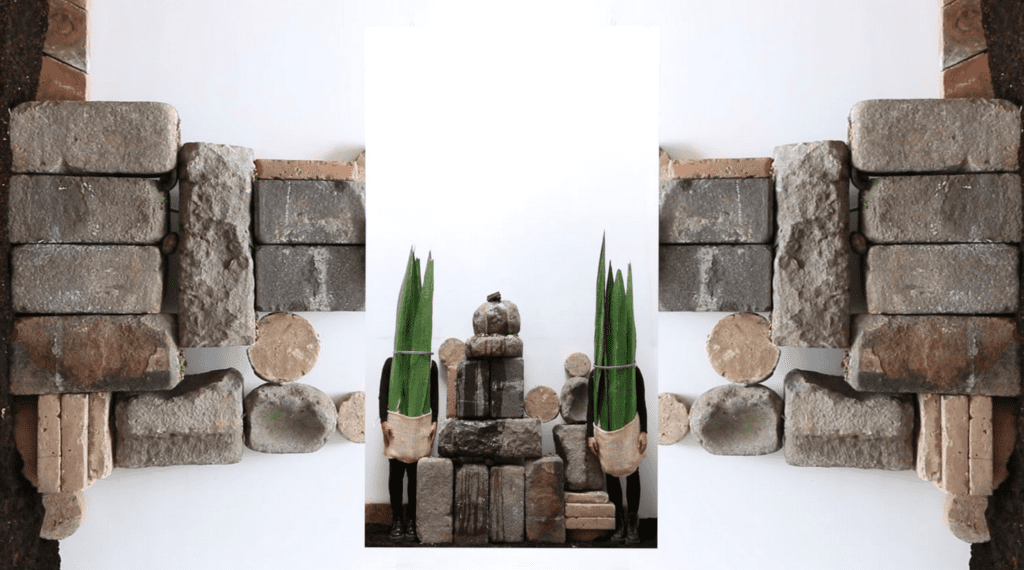 TECNOLOGIAS DEL SUEÑO
(Dreaming Technologies)
En 'Las alanzias esquizo-chamanicas' en UAIIN-CRIC en alanzia con 'The Center for the Less Good Idea' en Sudafrica
In 'The Schizo-Shamanic Alliances' in UAIIN-CRIC in alliance with 'The Center for the Less Good Idea' in Southafrica
//DE// Julian Dupont arbeitet seit mehreren Jahren mit dem Thema der Ahnengedanken in der pazifischen Andenzone. Durch ein Stipendium der ArTeC-Forschungsschule in Paris entwickelt er ein Projekt mit dem Titel "The Schizo-Chamanic Alliances" zusammen mit der interkulturellen Autonom-Indigenen Universität, die dem Rat von Cauca in Popayán [Kolumbien] angeschlossen ist. Das Projekt sucht und erarbeitet Verbindungen von traditionellem, überliefertem Denken mit zeitgenössischer bildhauerischer Praxis. In seinem Video Dreaming Technologies erforscht er in Zusammenarbeit mit dem "center for the less good idea" rituelle Praktiken rund um Traumzustände. (Traditionelle spirituelle Praktiken rund um den Traum und das Schlafen, werden gerahmt von dem Versuch technischer Erschließung und Kartografierung der Welt des Schlafen und Träumens, einem der wenigen Bereiche der menschlichen Existenz, die noch, bis vor kurzem, von der neuen "Religion" der neoliberalen und technischen Optimierung und Erschließung verschont blieben.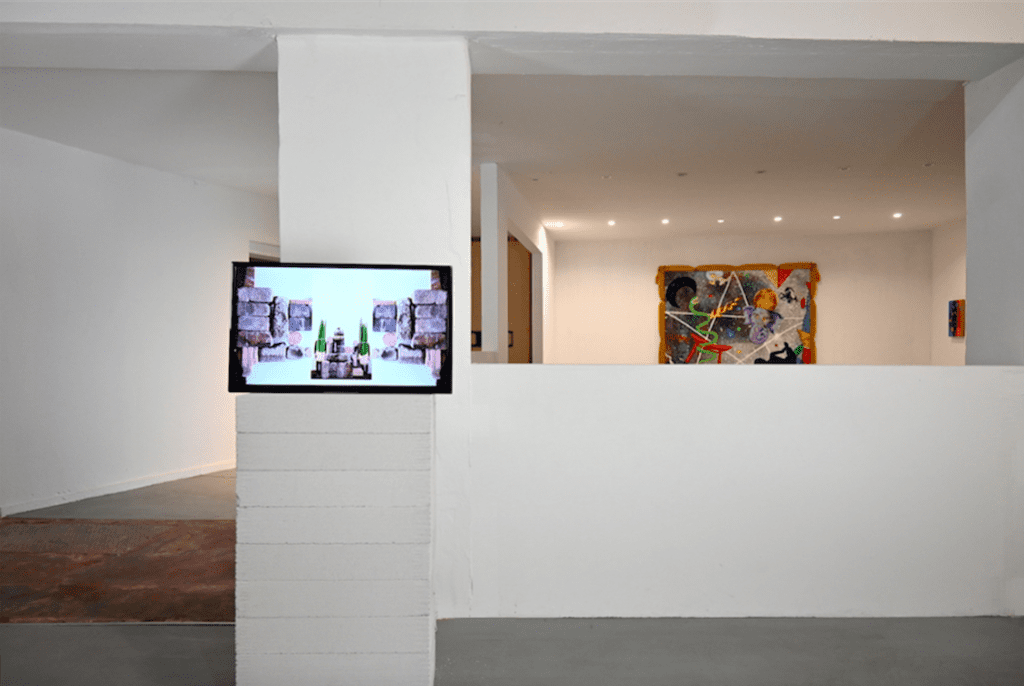 NIKA FONTAINE
Series INCOGNITO
Artist statement:
The question behind the Incognito series is: Can an artwork become decorative or even invisible when placed in the right context? The notion of decoration and ornamentation interests me for its triviality and neglected importance. I personally love elaborate embellishment in artworks and environment. The question is maybe more about which kind of judgment do we pose on an object in regards of its surroundings.
Each painting depicts a very broad thematic adoring its clichés without implying any narration. The upholstered velvet frames use the language of mobilier and stage curtains. As a result, each large format works are exuberantly present and hard not to acknowledge in a space. Therefore, the ironic title incognito strengthens my position on the "non-dit" high art decorum and the preciousness of the galleries and museums.
//DE// Nika Fontaine hat seit ihrer Kindheit in Kanada eine Enzyklopädie des religiösen und meta-religiösen Wissens geschaffen. Aufgewachsen mit der katholischen Religion, war ihr großer Einfluss ihr Onkel, der bedeutende kanadische Maler Jean-Paul Jérôme, sowie der Bruder ihrer Mutter, der sich dem klösterlichen Leben widmete. Nika hat sich der Kabbala, dem I Ching, Tarot, Freimaurerei, Taoismus, Buddhismus und weitere genähert und diese spirituellen Räume voller Rituale mit einer großen ästhetischen Freude und einem offenen Geist durchstreift. Sie macht sich deren Sprachen und Symbole zu eigen und schafft witzige und komplexe visuelle Strukturen, die meisterhaft in Malerei umgesetzt werden. Mit ihrer Arbeit Amen aus der Serie Incognito präsentiert Nika dem Betrachter alle visuellen Klischees einer Religion oder eines Glaubens, um zu zeigen, dass es tief in all ihnen eine Einheit gibt.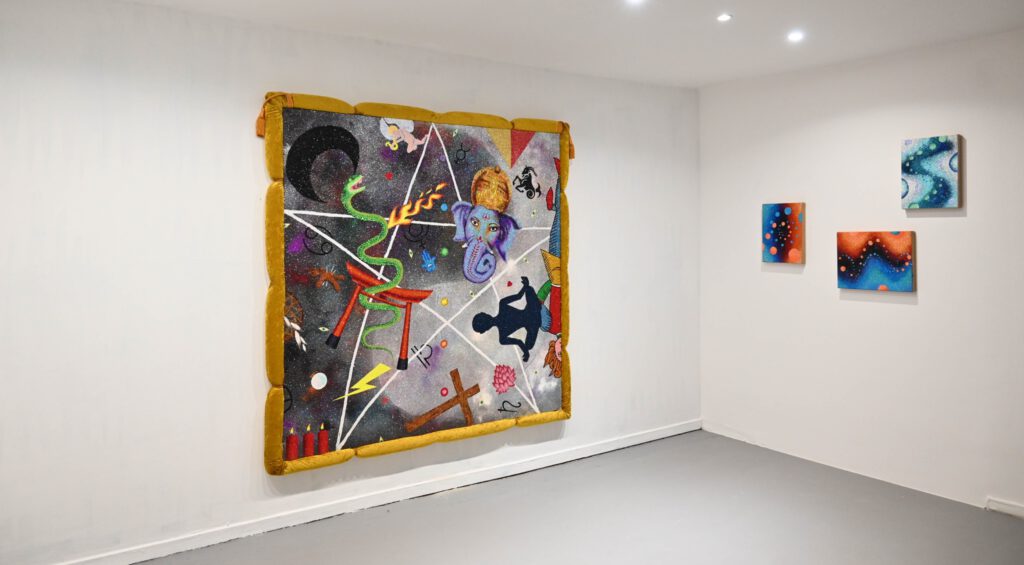 PAUL HANCE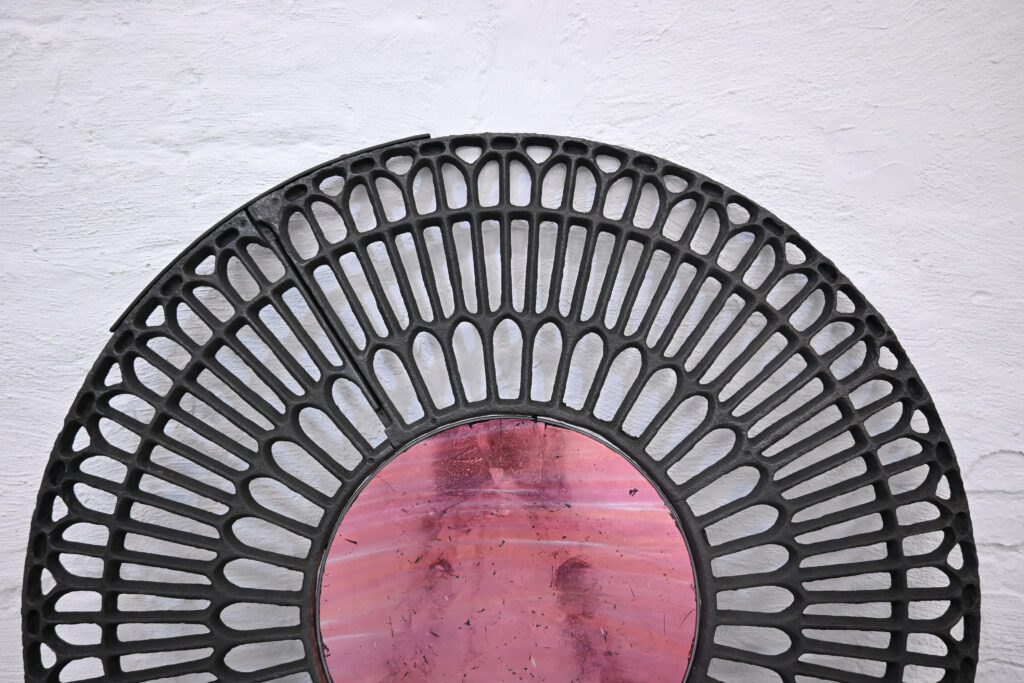 The investigation is an invitation to meet in the history of objects and to feel their value and beauty through their materiality. With the word mystery he associates the mystery, in the sense of the secrets of various cult forms, but professions where the mastery of a technique is the mystery.
The center consists of a tondo of "gold pink" mouth-blown glass. In fact, in some centuries the publication of glass making was punished as treason. For many professions, even today, it is customary that plants and hair should be cut only under certain phases of the moon. The moon, our satellite, is always a fascination. It has a dark side that we cannot see, it moves the waters and influences our being and feeling.
MARCO MONTIEL-SOTO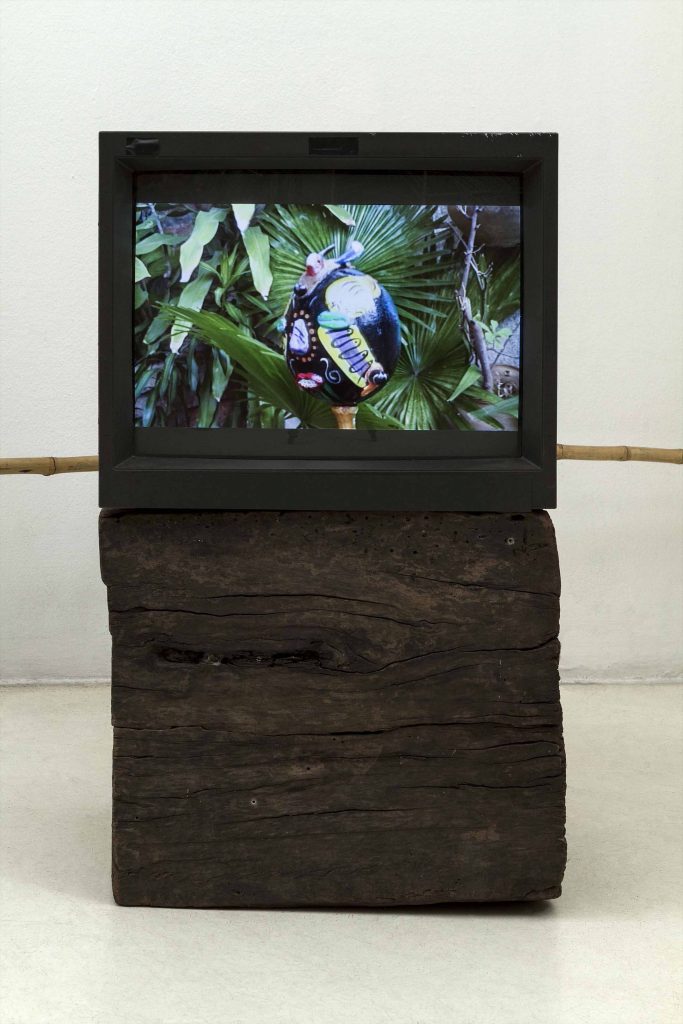 Tratado de maracas diablo del Yare, 2019. Found object, Sound, Video: 3:33min To view more click here
//DE// Marco Montiel-Soto ist ein venezolanischer Künstler, der in Berlin lebt und arbeitet. Sein Werk ist geprägt von einer Auseinandersetzung mit dem Leben in Lateinamerika, das mit Präzision und Humor den exotisierenden Blick des Eurozentrismus entwaffnet. Sein Blick richtet sich auf die Beziehungen zwischen den Menschen, den verschiedenen gesellschaftlichen Gruppen und deren Verhältnis zu Alltagsgegenständen und der Natur. Mit seinen beiden Videos "Tratados de la maracas" (dt.: Verträge der Maracas) lässt Montiel-Soto Rituale des Alltags entstehen. Die runde Form der Maracas und die Sympathie, die sie hervorrufen, hat traditionell dazu geführt, dass ihnen Gesichter verliehen werden, die aus den Stereotypen einer Ethnie zusammengesetzt sind. Marco nimmt diese Vorurteile und subtrahiert sie, indem er den Instrumenten eine neue Seele gibt und sie in Schamanen verwandelt, die neues Leben gebären.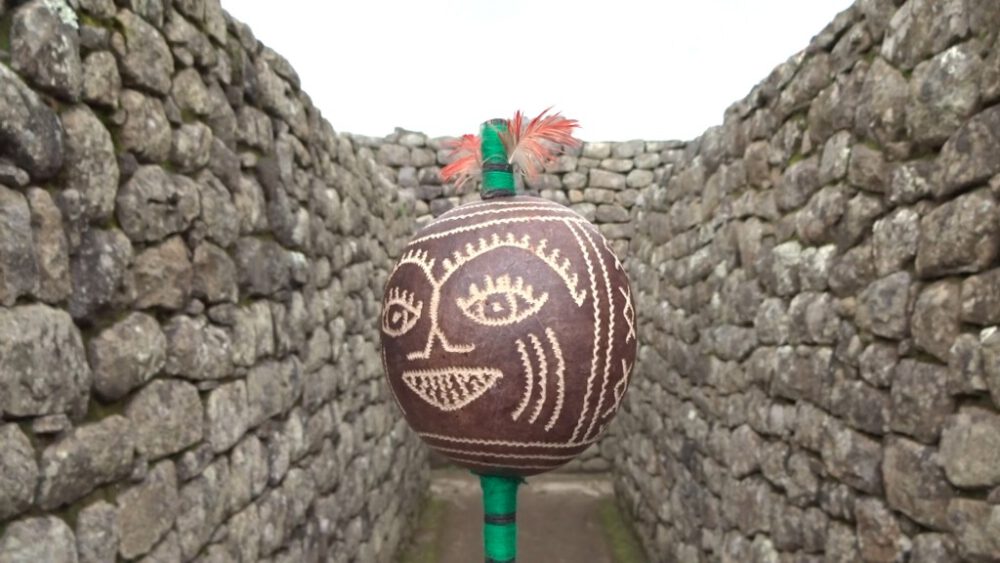 ELISA BALMACEDA
SPECIAL EVENT: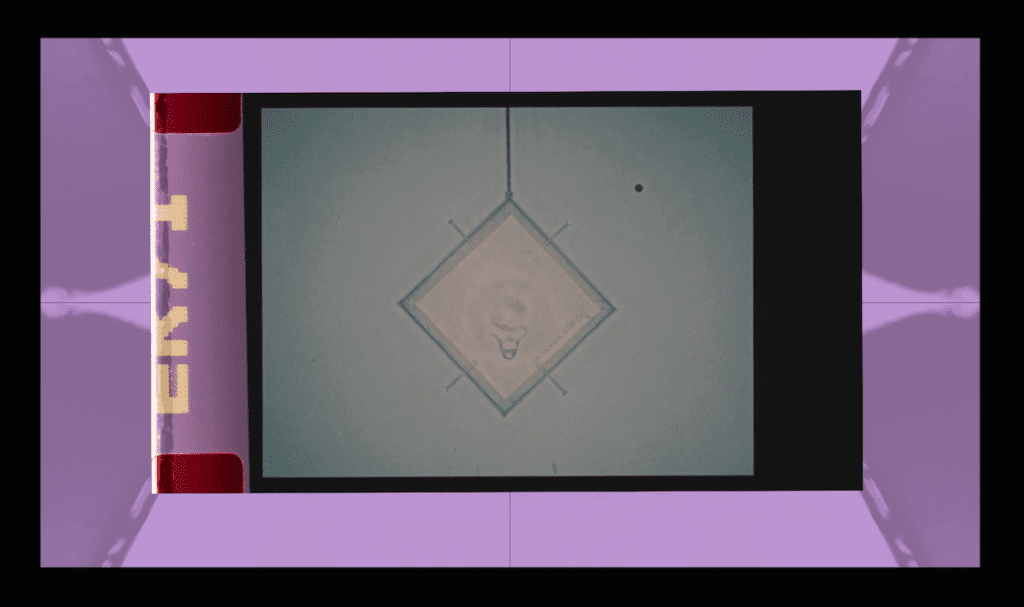 Join us for our SUMMER SOLSTICE RITUALISTIC CELEBRATION
w/ ELISA BALMACEDA
JUNE 20TH 2021
9:30PM
@ our outside space of the gallery!
"Signar la totalidad" is a multimedia work by Elisa Balmaceda, running on an online platform. In 4 coordinates defined through her large and intensive research on Andean knowledge, Balmaceda welcome us in a new Cosmo-technology. Her work reflects on the sun, the energy, the destruction of the environment, and the ancient knowledge in relation with technology in videos, texts, artists books and images .
Her work will be visible as the sun goes down during the longest day of the year.