Mauricio Limon: WRONG DRESS IN PLUMES OF SMOKE
Mauricio Limon de Leon
Exhibition: September 7th – November 21st 2019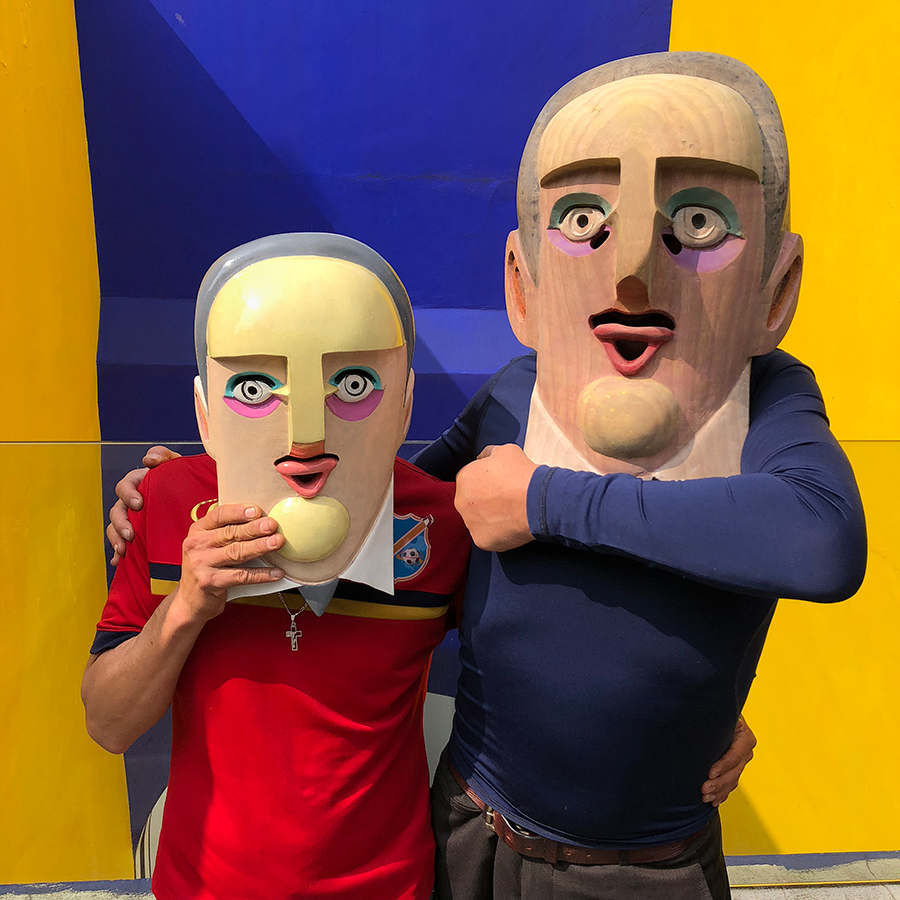 Mauricio Limon long term project Wrong Dress In Plumes Of Smoke
Its interim state Performing White Skin has been shown in Brussels and Amsterdam and is now fully being exhibited in Düsseldorf.
Using the cultural framework of contemporary popular western culture, one can succumb to the temptation to rapidly associate the use of masks with a bit of luck or protective charm, when considering this object subjectively. This view would also consist of intent of unearthing or a strategy of concealment to hide one's identity to protect one's self from critique, or to remain anonymous, an approach that uses the dynamic qualities of costume within the context of popular parties and the carnivalesque, using costume as a vehicle for liberation within the rigid confines of how one should act morally, sexually, politically, etc. In this context, the mask emerges as a façade that evades censorship, a superficial lucky charm that enables individuals to counter the harmful consequences against their individual bodies, and their individual discourses, opinions, political postures, behaviors, etc. Let's take the example of the mask of superheroes in cartoons or the now-famous mask of Anonymous. Through this scope, the mask is associated with individuality, personality, and the protection of subjectivity. Nevertheless, there are other uses and effects associated with the mask that transcend the approaches of concealment or protection of individuals, an approach that doesn't confront or oppose those previously mentioned but exists on a different plane, one described by Maite Garbayo Maeztu as one that "makes appear what disappears".
The exhibition with Limon consists e.a. of insitu pieces, a video work, and 27 wooden masks, inspired by the Mexican tradition of masks that can be seen on the street and at religious festivals, as well as museums. The mask sculptures, central to the exhibition, are mise-en-scene in video satire. An actor soliloquizes on set, resembling a talk or interview situation. Intermezzos of film stills function as commentary, similar to the choir of Greek tragedy: a reflection of astonishment and outrage.
Wrong Dress in Plumes of Smoke is an in-depth research on power structures and subjectivities. Everything turns into an exceptionally large installation, applied to contemporary social and cultural discourses using the genre of satire.
Para el texto en español; PR_ES
Für die deutsche Pressemitteilung: PR_DEM
Mauricio Limon. Born in Mexico. 1979. Living and working Between Mexico and Paris, Limon belongs to one of the most important contemporary artists in

Mexico.


Limon not only has a vigorous exhibition history of solo and group shows but has also been nominated for the Pinchuk Prize in 2014 and received the Rijksakademie Stipend in Amsterdam in 2016.