exhibited in Brooklyn, NY!!!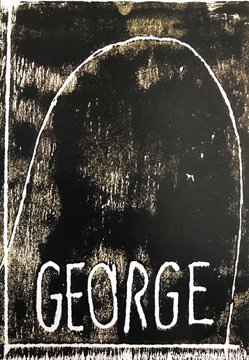 presents
Opening Friday September 22 from 6-9 PM
—
"For its inaugural exhibition, GEORGE is delighted to announce a presentation of recent works by New York-based artists Lauriston Avery and Jason Duval. The exhibition opens Friday, September 22, from 6 to 9 pm at 117 Grattan Street in Brooklyn.
Lauriston Avery and Jason Duval each engage with form and material to build evocative imagery that shifts fluidly between the abstract, the suggestive and the recognizable. In their paintings and works on paper, recurring biomorphic forms and architectural elements summon the uncanny familiarity of dreams and involuntary memories. Time, mortality, memory and history are underlying themes in each artist's search for meaning in image and abstraction.
For Avery, this process serves a spiritual, as well as pictorial function. At once symbolic and psychological, Avery's spectral images emerge like apparitions of the unconscious from their textured and heavily worked supports. In Duval's work, the materiality of paint tends toward the atmospheric and ephemeral. Remnants of figures disappear, coalesce and manifest, to create a sensory experience, untethered to a definite narrative—but are nonetheless evocative of the pleasure and poignancy of daydream-like reflection. In their work, Avery and Duval grapple with an amorphous sense of the past—one that may or may not have existed.
Lauriston Avery and Jason Duval both live and work in New York City. Avery has shown his work in several solo exhibitions at the Hogar Collection in Brooklyn. Duval's work was recently included in "Feedback" at Marlborough Contemporary, curated by Leo Fitzpatrick. After several years of friendship and creative dialogue, this is their first exhibition together.
GEORGE is an artist-run gallery located in Brooklyn at 117 Grattan Street #222. During Bushwick Open Studios the gallery will be open Saturday and Sunday, 11-6. Thereafter, gallery hours are Saturdays and Sundays from 1-5 and by appointment." – by George Gallery