Wildpalms is proud to present NIKA FONTAINE's transcendental state of grace,
a group of paintings, created for her first solo show in Düsseldorf.
TRANSCENDENTAL STATE OF GRACE
opening 23.06.2016. 7 PM
Königsallee 92
40212 Düsseldorf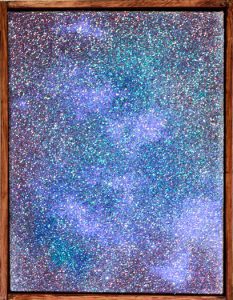 Fontaine's body of work is the result of a one year long process, by which the artist researched pictorial expressions for meditative mind states, dreams and happiness.
Applying different layers of glitter and acrylic on the stretched canvas, each work is a visual field that changes every second, accentuating different color pigments used and refracting the diverse color spectrum of light depending on the position of the beholder, the hour of the day or the light projected.